Closed-Loop Pressurized Thermosiphon System(SUS / Enamel)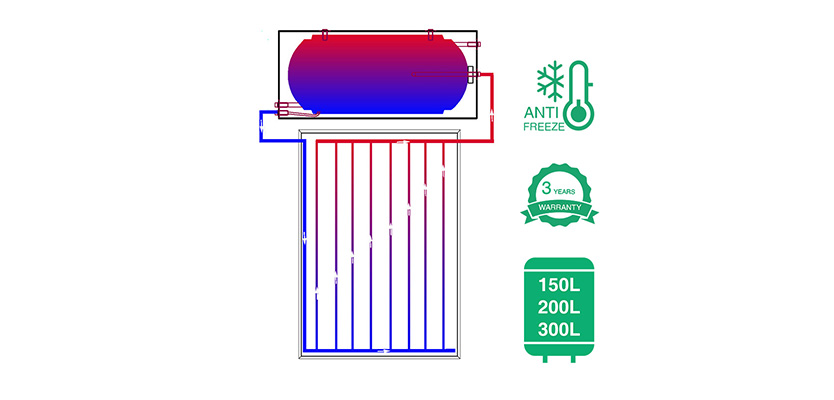 High Cost-Performance System
· Natural thermosiphon circulation heat water directly without
heat lost in second transfer.
· Best value anodic oxidation flat plate collector provide both
cost-efficiency and high performance.
· Large capacity storage tank with 50mm thick insulation layer,
offer superior heat preserve performance.
Design for Comfortable Use
· Pressurized design supply heated water with stable
temperature and flow rate.
· Hot water regardless of the weather with electric booster.
Easy Installation and Operation
· Modular parts and components for easy transport, installation
and maintenance.
· Intelligent controller can prevent overheating, reduce
maintaince in daily usage.
· Cold water automaticaly refill to tank while hot water was being
used.
Model No. & Specification
STE-IPTSWH-S150
STE-IPTSWH-S200
STE-IPTSWH-S300
Water Tank
Circulation Type
Pressurized Open Circuit
Tank Capacity
150 L
200 L
300 L
External Dimension
Ø520*1250mm
Ø520*1540mm
Ø520*2260mm
Inner Tank Material
SUS304-2B 1.2mm
SUS304-2B 1.2mm
SUS304-2B 1.5mm
Outer Tank Material
Color Coating Galvanized Steel / Stainless Steel /0.5mm
Magnesium rods
φ15X200mm
Insulation Material
50mm Polyurethane
Intelligent controller
1 Set
Electrical Booster
1.5KW
2.0KW
2.5KW
Flat Plate Solar Collector
Collector Models
STE-2C-AO-F2
STE-2.5C-AO-F2
STE-2C-AO-F2
Dimensions
2000*1000*80mm
2000*1250*80mm
2000*1000*80mm
Quantities
1 piece
1 piece
2 pieces
Absorber Coating & Material
Anodic Oxidation /Aluminium Fusion Bonding Strip / 0.5mm Thickness
Frame
Special Bending Design Extrusion Aluminum Frame / 1.0mm Thickness
Cover
Low-iron Tempered Textured Glass / 3.2mm Thickness
Tube
Header Tube : Φ22*δ0.5mm Riser Tube:Φ10*δ0.5mm
Back Plate
Embossed Aluminum Plate / 0.5mm Thickness
Insulation
Fiber Glass/24kg/m³ Density / 30mm Thickness / Aluminum Foil Full Packaging
Bracket
Material
Painted Galvanized Steel/Stainless Steel
Install Type
Inclined / Flat Roof
Accessories
Copper Connector
1 Set
Flexible Stainless Steel Tube
1 Set
Weight
Whole System Weight (Empty)
105KG
125KG
175KG
Loading Quantities
20GP Container
Inclined Roof : 40 Sets
Inclined Roof : 32 Sets
Inclined Roof : 22 Sets
Flat Roof :35 Sets
Flat Roof : 27 Sets
Flat Roof : 21 Sets
40HQ Container
Inclined Roof :85 Sets
Inclined Roof :69 Sets
Inclined Roof :47 Sets
Flat Roof :73 Sets
Flat Roof :55 Sets
Flat Roof :43 Sets